Infrared Imaging in Kentucky for Residential and Commercial Buildings
Solve Home Comfort Issues like Air Leaks, Insufficient Insulation & Thermal Bridges
Take the hassle out of your home energy audit. Let the experts at Weatherization Plus perform an infrared imaging of your building to easily determine areas of energy loss.
Often the sources of home comfort issues and high energy bills are difficult to determine with the naked eye. This can be especially true when trying to determine the source of cold drafts or hot spots. If conditions are right, thermal imaging can be a valuable tool to help us solve your home's energy efficiency problems.
Luckily for Kentucky homeowners, Weatherization Plus provides infrared imaging for residential and commercial properties. By using a thermal camera to evaluate your home, we can identify energy issues and recommend the right solutions for your home's needs. If you're interested in reducing your home's energy costs and creating a more comfortable space, call us today at 1-859-449-7706 or click below. We provide complete thermal imaging services in Lexington, Richmond, Versailles and nearby.
How Infrared Imaging Works
Infrared is a non-invasive way of diagnosing a variety of home performance problems such as air leaks, missing patches of insulation, or thermal bridges. With a thermal camera, our team of trained technicians can detect and pinpoint the exact location of a possible air leak or where a potential thermal bridge may be forming. We can do this all without opening your ceiling or walls, making infrared imaging one of the most non-destructive and accurate methods of determining home energy loss!
We use only cutting-edge technology to inspect your home, specifically FLIR brand infrared cameras. Our trained technicians can detect a variety of issues in of your home and help us identify the best solutions for your needs.
Benefits of Infrared Imaging
Visualize energy losses
Detect missing or defective insulation
Find sources of air leakage
Identify moisture in insulation and walls
Detect potential mold development areas
Locate thermal bridges
Identify areas with possible moisture issues
Detect duct issues
Why Use Infrared Imaging?
Gives a full image of the situation
Identifies and locates the problem
Measures temperatures
Tells us exactly what needs to be fixed
Can help us find faults before real problem occur
Helps save valuable time and money
Detection and Visualization of Air Infiltration and Exfiltration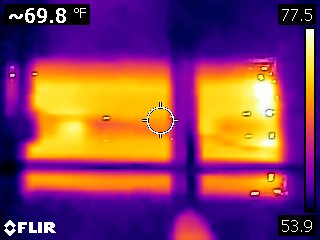 Get a detailed thermal image of your home or building. Our advanced thermal cameras can find areas of moisture in your walls or insulation, and areas where air is exiting or entering your house where it shouldn't.
To keep your home comfortable, healthy, and safe it is vitally important to have adequate air exchange. However, most homeowners don't even realize their air exchange rate is higher than it needs to be due to air leaks. Usually, these leaks are the result of either poor design and/or construction that lets air seep from spaces between building materials.
Finding what often end up being multiple sources of air infiltration and exfiltration can be difficult, expensive, and damaging to your home. Locating areas where your wall or roof insulation is insufficient can be close to impossible without removing parts of your structure. However, with an infrared reading from Weatherization Plus, we can help you find lasting solutions to your home comfort issues without the expense or destruction of traditional inspection methods.
Detection of Potential Mold Growth Zones
On top of identifying air leaks in buildings, thermal imaging can also detect areas in your building where moisture is or was present. With this information, we can determine areas where conditions are favorable for mold, mildew, and rot to flourish. Since these are serious health and safety risks, it is vitally important to know where they occur most in your building so you can prevent them.
Identify Thermal Bridges
A thermal bridge is an area where the living space in your home has a lower thermal resistance. These are spots in your walls that are allowing energy to be wasted as heat follows the path of least resistance from your living space to the outside. Weatherization Plus' infrared imaging technology can determine exactly where the thermal bridges are in your space and then we can provide the best and most cost-efficient solution.
Stop wasting energy in your home and let the experts at Weatherization Plus help you create a more efficient home with infrared imaging. Call us today at 1-859-449-7706 or contact us online to get thermal imaging for your home in Lexington, Richmond, Versailles, Frankfort, Georgetown, Nicholasville, Lawrenceburg, Paris, Wilmore, Stamping Ground and nearby.